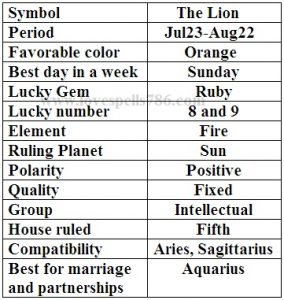 Likes:
Loving Leo also has strong inclination towards children and speculative ventures. People of this star also admire lavish living style.
Dislikes:
Leo despises narrow minded people and ordinary things to do. Leo is high-spirited and enjoys achieve great goals.
Possible Health Concerns:
Leo is a subject of those diseases that are related to its heart, lungs and nervous disorder. Common health issues related to this star are backache, fever and eye diseases.